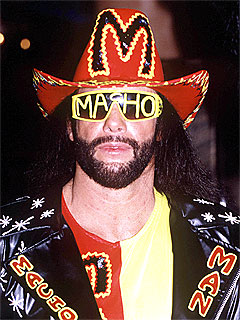 http://www.people.com/people/article...496220,00.html
Former wrestling champion "Macho Man" Randy Savage died on Friday morning in a car accident in Tampa, Fla. He was 58.
According to TMZ.com, the wrestling superstar, who was born Randall Mario Poffo, suffered a heart attack while driving and lost control of his car, crashing head-on into a tree after driving across a concrete median.
The Florida Highway Patrol says the wrestler was transported to Largo Medical Center where he died from injuries sustained in the accident. His wife, Lynn, was a passenger. She survived the crash, suffering minor injuries, according to the report.
Known for his catchphrase "Ooh yeah," and his colorful, over-the-top wardrobe, which often included sunglasses and headbands, Savage held over 20 championships during his professional wresting career, which began in 1985. He was also a seven-time world champion.
Due to his notoriety, in the '90s, Savage became the spokesman for Slim Jim.
His brother, Lanny Poffo, confirmed the news of Savage's death to TMZ.