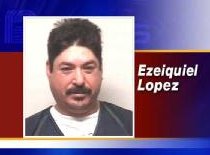 Kenosha - A man accused of fatally shooting a sheriff's deputy had been drinking, using drugs and was angry at his wife and doesn't remember shooting at a deputy, according to a criminal complaint filed Friday.
Ezequiel Lopez, 44, of Kenosha was charged with first-degree intentional homicide in Kenosha County. He's accused of shooting Deputy Frank Fabiano Jr. after Fabiano stopped Lopez's van at about 11:35 p.m. Wednesday in Somers.
University of Wisconsin-Parkside Police officer Jimmie Spino, who was Fabiano's backup, heard Fabiano ask Lopez get out of the van, heard two shots and then saw Fabiano fall, according to the complaint.
Spino then fired his pistol, and Lopez continue to fire and then ran from the van along a line of trees, the complaint says.
Fabiano was taken to a local hospital, where he was pronounced dead about 50 minutes later.
At about 2:30 a.m. Thursday, deputies arrested Lopez in an apartment complex's parking lot about a mile away.
He was treated at a local hospital because he complained of pain in his hand from a puncture wound.
Lopez had an Illinois identification card that said he was Ezequiel Quintero, the complaint says.
Lopez said he was upset on Wednesday because he claimed his wife had an affair.
"The defendant said that he had been drinking tequila, bought a .380 pistol for $300 from what he described as a gang member and also bought and consumed about $200 worth of cocaine," the complaint says.
He also said he didn't initially stop his van for Fabiano because he thought he had been in an accident. Lopez said "he cannot recall shooting at any officers," the complaint says.
Fabiano had three gunshot wounds, including at least one to the head that killed him, the complaint says.
A judge set Lopez's bond at $1 million Friday. A hearing to determine whether the case should go to trial is scheduled for May 29.

Kenosha County District Attorney Robert Zapf said Lopez is an undocumented immigrant.