Two female patrons decided it was a good idea to slap a McDonalds cashier over 50USD. Apparently, one of the patrons decides to jump over the counter, to continue to attack the cashier, while the other female patron decided it was even a better idea to not jump the counter, but go around and attack the cashier!
The irony? Well, the cashier responded by getting a metal rod and fighting back by fracturing the and arm of one of the female attackers while lacerating the arm of the other attacker. According to some of the witnesses, the two female patrons appeared to be intoxicated.
I guess these two fine outstanding citizens will think twice about assaulting a cashier and jumping a counter again!
YouTube Video: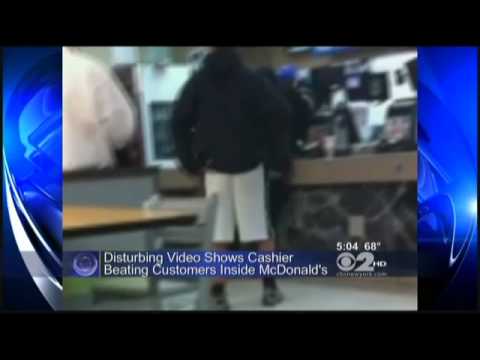 Source:
http://newyork.cbslocal.com/2011/10/...tan-mcdonalds/
NEW YORK (CBSNewYork) — A fight over an order at a Manhattan McDonald's leads to complete chaos and it was all caught on tape.

The video contains images and audio of a graphic nature.

Sources tell CBS 2's Chris Wragge the stunning incident featured a cashier with a criminal past violently beating two female customers after they appear to provoke him by slapping him and then hopping the counter.

It was a horrific scene to watch. The cashier disappears into the back of the fast-food restaurant on West Fourth Street in Greenwich Village before returning with a metal rod he then used viciously on the two customers.

The gruesome act of violence early Thursday morning escalated after the customers argued and yelled obscenities at the cashier when he questioned a $50 bill they gave him.

One of the female customers then slapped the cashier. A woman is then seen jumping over the counter, while the other woman goes behind the register. They are then savagely attacked.

Other customers watched in horror as other McDonald's workers tried unsuccessfully to stop the violence.

One female customer had a fractured skull that required surgery and a broken arm. The other has a deep laceration.

Rayon McIntosh, 31, was arrested and charged with two counts of felony assault and criminal possession of a weapon. McIntosh served more than a decade in prison after shooting and killing a high school classmate in 2000. He was being held on $40,000 bail.

The female customers were reportedly charged with menacing, disorderly conduct and trespassing.