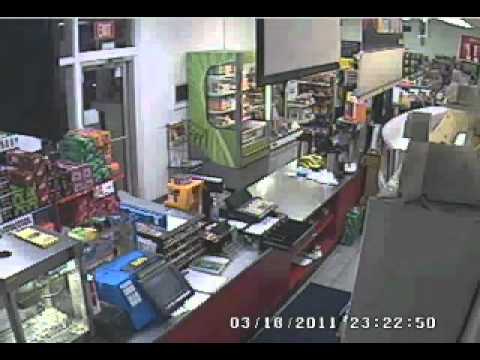 http://www.thedenverchannel.com/news...99/detail.html
Video: Store Clerk Wrestles Robber's Gun Away
DENVER -- Faced with a robber's handgun, a Denver convenience store clerk fought back, lunging across the counter and eventually wrestling the gun away.
The drama is captured on a security camera video posted on YouTube video by a manager of the Fast-N-Friendly store at 5595 E. Florida Ave.
"I (posted) it because I want to catch these guys," said the manager, who would didn't want his name used because store owners are unhappy about the publicity.
The manager praises the daring and dangerous move by the 24-year-old clerk, Cody Purcell.
"I think Cody did it because … people need to do things like that. Heroes happen," the manager said Monday.
A Denver police crime log showed the robbery of the store was reported by Purcell at 10:30 p.m. on
March 18. Police said they were unable to provide more information on the case Monday, because city offices were closed in observance of Cesar Chavez Day.
In the video, two masked men enter the store and one sticks a gun in the back of another clerk.
"Don't move. Don't move," the gunman said, cursing repeatedly.
"Open the (expletive) register," the robber ordered, pointing the gun at Purcell behind the counter.
As an accomplice cleans out the register, the gunman commands Purcell to get down on the floor and starts counting down: "Five, four, three.…"
But, the clerk leaps across the counter for the gun. Purcell failed to grab the gun, briefly sprawling on the floor.
Yet, the robber doesn't fire, possibly because the "gun" turned out to be an air-powered pellet gun.
Instead, the much bigger gunman shoves Purcell backward into an aisle and the adversaries disappear from the security camera view into the back of the store. The camera shows shelf items being knocked over as the robber swears and sounds of scuffling are heard.
The robber's accomplice runs to the back of the store, too.
After several seconds, Purcell reappeared, clutching the bigger robber by his arms and backing the man out of the store.
The robber repeatedly urged the clerk, "Let me go and we'll be gone, I swear to God!"
As the two robbers exit the door, Purcell screamed "Robbery!" outside.
The robbers made off with about $70 cash.
Purcell then reentered the store and called police.