4511.712 Obstructing intersection.
(A) No driver shall enter an intersection or marked crosswalk or drive onto any railroad grade crossing unless there is sufficient space on the other side of the intersection, crosswalk, or grade crossing to accommodate the vehicle, streetcar, or trackless trolley the driver is operating without obstructing the passage of other vehicles, streetcars, trackless trolleys, pedestrians, or railroad trains, notwithstanding any traffic control signal indication to proceed.
New job, new commute. New traffic challenges. There is this one instersection that is backed up so much you can only get a couple cars through each cycle of the light.
- What constitutues "entering" and intersection? Crossing the stop bar/near line of the crosswalk, or actually in the path of cross traffic?
- What consitutes "The other side"? Level with the stop bar? Or out of the path of cross traffic?
Look at this image: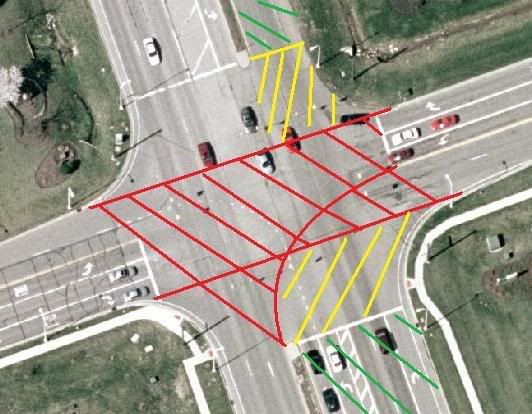 I know I cannot stop in the red shaded areas, and that the green shaded ares are OK. But what about the yellow shaded areas?
I tried waiting behind the stop bar for my exit to clear but folks just succesively drove around me until I pulled forward intot he yellow shaded area on my side. I guess I need to be more aggressive - but that seems like the wrong answer...?