To anyone interested, I have a Para Ordnance Carry 9 that I have never even fired. I will provide the gun itself w original box, 2 mags, and owner's book (cost me $800 plus tax). I will also provide a Don Hume IWB holster (cost me $40). I have a 2nd set of Micarta linen grips that are green and look nice that I will throw in (cost me $50). I will also throw 400 rounds of ammo (no need to tell you guys how much this cost, I think).
It is made like a baby 1911 and has the light double action trigger.
Thats easily $1,000 worth of great stuff.
I am asking $700, but will entertain reasonable offers (possibly a trade and cash?). I may even be able to sweeten the deal with some more ammo (.38 and/or .40).
Here is a photo of it next to a Smith and Wesson 342. As you can see, it is PERFECT for concealed carry, while still offering 9 shots of 9mm.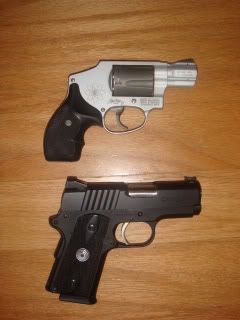 Please Pm me for more details, talk about price, etc.
Edit: Adding this video for informative purposes