Guys, most of you know that I like to do reviews of various equipment. The latest piece of equipment I am reviewing is one of the best tools for a person that is training almost any type of martial art: Thai Pads.
Thai pads are one of THE most versatile pieces that you can use to work punches, elbows, knees and kicks. The cool thing about them is the ability to flow from one to the next just by placing them in a new position. The ONLY downfall that I can think of when using these is that you have to have a partner. If you check youtube you can find videos of Thai Pads being used for all sorts of combinations. The versatility makes these a lot of fun to work with.
I ordered these Thai pads from Piranha Gear (
http://www.piranhagear.com
). I actually came across this company's website by mistake. But, while there, I browsed a bit of their equipment and began to search for some reviews on it. I found a few reviews, particularly positive ones about their boxing gloves and the customer service. I actually contacted their customer service to ask some questions about their gear and Bill (who apparently works in customer service) was quick to respond with friendly and informative answers. This confirmed what I had read about their (particularly Bill's) commitment to customer service.
This is the link to the actual piece of equipment I ordered. Please note that the price is $44.95 each. Some companies sell these by the pair, some sell them individually.
http://www.piranhagear.com/index.php...d-1-black.html
Before getting into pictures and categories that these were judged on, I should point out a few things about first impressions really quick. I received these on Thursday and took them straight to my martial arts gym. I pulled them out of the package and passed them around. Naturally, everyone took a few jabs at them or threw an elbow strike on one. EVERYONE said "Wow. These are solid and strong." This is important for a piece like this, that will endure a lot of tough blows from all extremities.
On to the categorical review:
Shipping and packaging:I placed my order for these on Thursday, September 16. I was able to get free shipping because I spent $100. This appears to be a standard service for all orders over $100 with Piranha Gear. They arrived on Thursday, September 23. Exactly one week to come from San Jose, California all the way to eastern Georgia. I was pleased with this and I think that if you DONT spend $100, you can choose the shipping method and get items quicker, if that is your desire. They came in a box without any real packaging. But this was not an issue, as the thai pads filled the box up (along with the t shirt I purchased). In fact, it was like the box was custom made for these, because of the nearly perfect fit. Here is a picture of the pads right after I opened the box and removed the t shirt: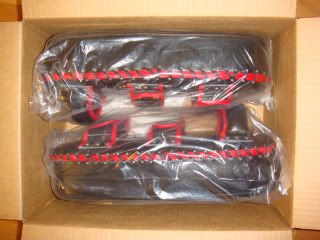 Cost: As stated, these were $44.95 each, so the total cost is $89.90 (before any shipping charges, but there were none). Now I havent priced many of these specific pads before, so I checked around AFTER my purchase and realized that I got a very good deal. I found thai pads from Century, TapOut, Title MMA and others that STARTED at $69.99 and went up to $90.00 or more (for each individual pad). I did find a few that were slightly more costly for well known brands, such as a pair of Windy thai pads (medium size) for $99.99. So, the pricing on these is either competitive or easily better than just about any that I found online. Obviously the price on these blows away Fairtex, Throwdown, Hayabusa and other "high end" brands. I think the only pair that beat this price that I found were the Combat Sports International ones.
Construction/durability: Obviously, time will be the ultimate judge on this. However, I am basing this on 1st impressions. My first impression is that these are very strong and tough, yet comfortable for the holder to wear. Pretty much everything on these is double stitched, and there are 3 rivets for the top handle, as compared to others who only use 2. The construction of these lends a lot of confidence to the user and holder. I should also point out that these are 100% leather as opposed to others that are made with synthetic leather or even vinyl. The velcro on these is very strong as well. Once you have these on, there is no concern about them falling off! Below are some pics to show some of the construction details and size.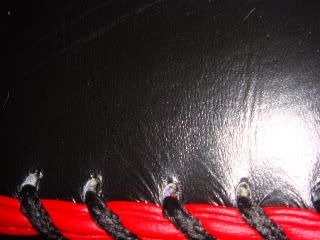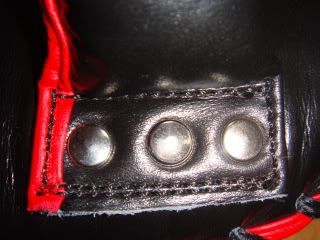 Width: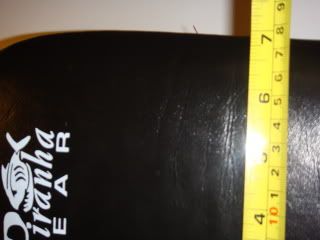 Thickness:
Length:
Customer service/other: As stated above, I was VERY pleased with the quick, friendly and informative answers I received from Bill at Piranha Gear. From what I have read in other reviews, this is the norm, so apparently customer service is not dead, folks. I would NOT hesitate to purchase from them in the future and in fact, I already have plans to do so. All in all, I was VERY IMPRESSED with the quality of these pads, the customer service that came with them and the price. You pretty much cant beat that!
But you guys dont have to take my word for it. I took these to my martial arts gym on Thursday and today and had several of the guys (and myself of course) go through various drills on them. The two clips below are only a DEMONSTRATION of a few of the things that these can be used for. Again, we used these pads for about 2 hours before these clips were made.
A couple of VERY BASIC strikes on these just for demo purposes: