Rock River Arms
MSRP: $835*
Just ignore the specs, and the carry handle. This is the only pic I could find.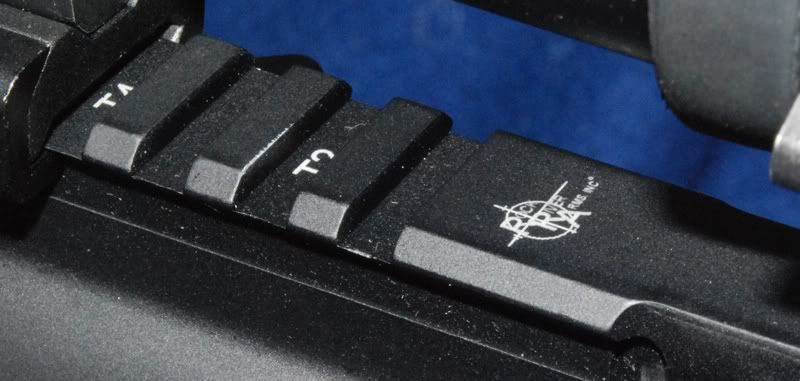 This company has made a HUGE name for itself, and I'm not sure why. Maybe because they LOOK most like the Colt than any of the rest? They come standard with the M4 double heat-shielded handguards and the side sling swivel, which is nice if you run a Spec Ops Mamba sling (or any other that needs that piece.) The barrel out front of the F-marked FSB has the M203 notch cut, which makes it LOOK like the Gov't Profile M4 barrel (but really isn't anywhere close!) The complete rifles come standard with RRA Nat'l Match 2-stage triggers, which is SWEET! They have a nice logo (no stupid deer head, or snake), and their prices are reasonable. But what REALLY pushed the fans over the edge is when they won the DEA contract.
The DEA chose to go with a chrome-lined barrel, whereas that is an option for their standard rifles. The Pro Government Series rifle is a 16" version of the DEA package rifle, and it comes with all the accessories included, and it would make a fine rifle (albeit expensive.)
So the only voodoo that RRA has is the black insert in the extractor. That's not bad, but it leaves a lot to be desired. It's basically the same rifle as the Bushmaster, except it does come with an F-marked FSB, but it doesn't use taper pins to hold that FSB on.
No M4 Feedramps:
Gas Key not properly staked: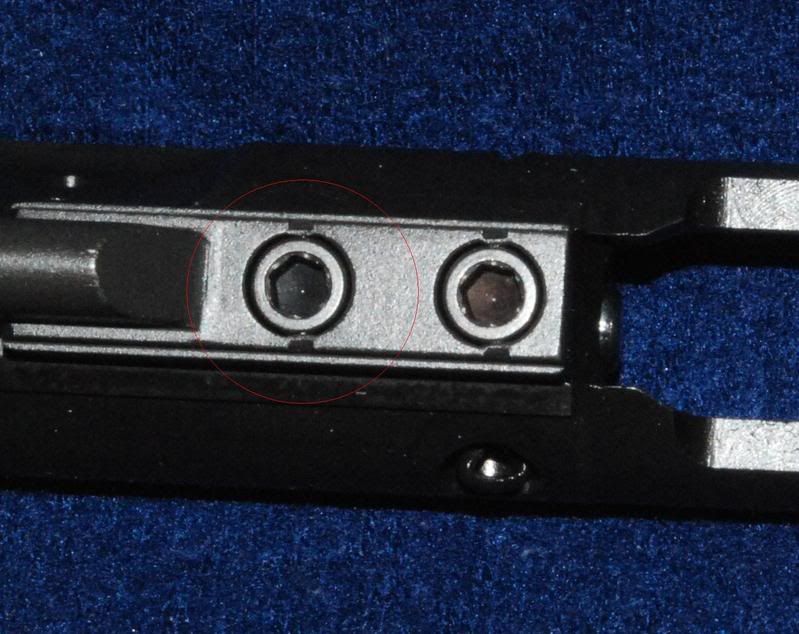 The firing pin is fully shrouded in the bolt carrier:
The RRA rifle is a nice rifle, if you could get one with a different barrel. In fact, you can. RRA makes stainless steel barrels a factory option, which is the route I took when I bought mine! It's a very nice Wilson 1/8 twist with a Wylde chamber. Very nice barrel on a nice upper receiver. Oh, and speaking of the receiver, it is T-marked in the picatinny rails and has a nice laser engraved logo on the top of the flattop receiver.
The best thing about RRA is the ability to get JUST what you want. They can be had in carbine length, midlength, and rifle length. You can get uppers, lowers, internal parts, etc... They will accomodate different calibers, different barrels, and different types of carry handles (tactical carry handles, Dominator mount, etc...)
So my opinion of RRA is high, it is just guarded. Know before you buy. Select the options that give you the best rifle, and don't buy off the shelf. If you buy RRA, order one.
In summary: order one with the correct specs and you'll be fine!
*
Price taken from their website by adding the lower and upper in M4 configuration with the standard trigger (not the 2-stage NM.) This actually includes the upgrade to chrome-lined 1/7 twist gov't profile barrel!
I'm not going to speak to Olympic and DPMS, except to say that at least Olympic's chambers are in-spec!
I can't see how anyone could actually recommend one of these rifles with a straight face.
These are well on down the slippery slope that separates the "fighting rifles" from the "recreational shooters." Please observe the difference, and do not recommend a plinker as a serious combat arm.
I just got these pictures of an Olympic Arms rifle from ThursCo.
No M4 feedramps:
They didn't even attempt to stake the Gas Key screws:
The firing pin, however, is fully shrouded.
AND FINALLY, WHAT WE'VE ALL BEEN WAITING FOR... MY PICK
I will now go into my own personal pick, why I like it, and why I think you'll like it, too!
As you might have guessed, I will pick CMMG every time. Here are a few pics of my CMMG rifle: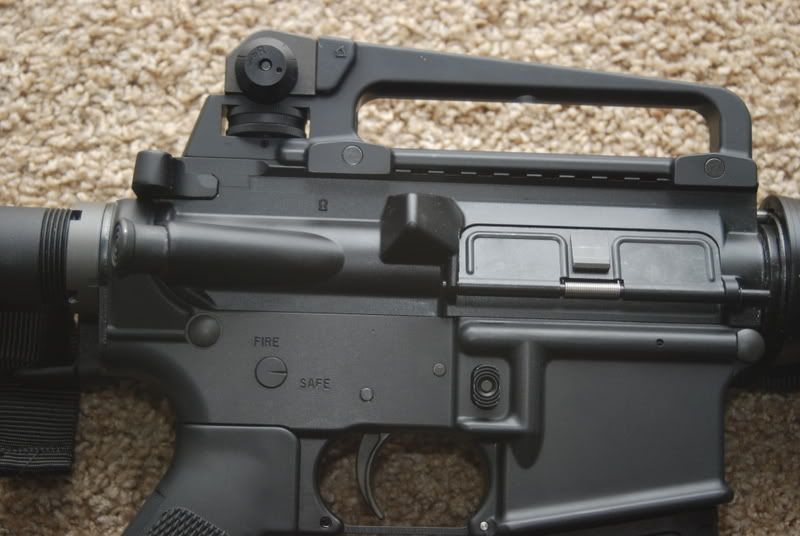 Why did I pick the CMMG over the Noveske or LMT?
Price.
Let's look at the price breakdown in descending order:
Noveske N4: $1395
Colt LE6920: $1250
Daniel Defense: $1175 (includes a $70 fixed rear sight)
LMT: $1123
Sabre Defense: $1089
S&W: $989
Stag: $925 (includes BUIS, but is not offered w/out one)
Bushmaster: $879
Rock River Arms: $835
CMMG: $815
With the CMMG, even if you add $100 for the LMT enhanced bolt upgrade, you're still only paying $915, which is STILL lower than everything but Bushy and RRA (both of which would also benefit from the LMT bolt!)
So for the rifle that is the cheapest of the group when bought the right way ($1025 if you buy the complete rifle), it ranks as one of the highest. In addition, I don't see some of the "features" as true "benefits" (staked castle nut, etc.)
Lastly, I have been more than impressed with the customer service from CMMG. They have again stepped up, and offered to replace my bolt carrier for free, in order to provide a bolt carrier which is properly staked. I don't think I'm going to take him up on it, but the offer was much appreciated!
So THAT is why I say, "CMMG" when asked "what brand AR should I buy?"
Now that I have decided which brand, let's look at which specific model I'd get.
As I said up at the top, each person has his own tactical parameters he must adhere to. One of mine is that I can't carry NFA toys (SBRs, Sound Suppressors, etc..) on duty. This means my barrel length has to be 16" long, and since I don't like welded on FHs, the actual BARREL must be 16".
If I'm stuck with a 16" barrel, I will choose a Midlength gas system in order to get the most out of my rifle. If this were to be a SWAT gun, and I could carry a SBR (Short Barreled Rifle), I would get the carbine length gas system in a 10.5" barrel. I can't think of a reason I would want a 20" rifle, but to each his own.
With the midlength gas system chosen, I will also want a gov't profile (or equivalent) barrel weight. The barrel will be 1/7 twist chrome-lined and will have M4 feedramps, F-marked FSB, etc... CMMG offers this exact rifle, and you'd better believe I'd be ordering it. I'd go ahead and get the bolt upgrade to the EGRESS, or if I have the extra cash, get the LMT enhanced bolt.
As for rails, I've already stated I can't have them on my rifle, so I'd just get the standard tapered handguards. Since I'm assuming this would be for patrol use, I would mount an EOTech on the flattop, and put a LaRue fixed BUIS behind it. This is my current setup, so no surprise there.
I'd keep the current light mount I'm running (TDI bayonet lug mount), but I'd put one of the newer M3X lights with a rifle plate on the back. This would give me more "throw", but keep the lockout capabilties I have now. Another option would be the SSL-1 or the Blackhawk weaponlight that just came out. Either way, it would be a small unit with around 100 lumens and rated as weapongrade.
I'd add a side sling swivel and run a Spec-Ops Mamba, as I have on almost all my rifles.
My favorite stock setup is a Hogue pistol grip w/ Gapper, and a Magpul CTR stock. The rifle would feed from Magpul P-Mags ($14ea) and would be loaded with Hornday TAP 75g OTM.
This rifle would ride safely in an Assault Systems case, which has the added benefit of a zipper flap to keep the zipper from scratching up your new bang-stick.
SAVING MONEY BY BUYING SMART!
But HOW I order it is very important. Pay attention!
I will not order one of the complete rifles listed on CMMG's website for $1025.
I will order the complete upper setup just the way I want it and have it shipped to my house. I will then (on a different day) order the complete lower and have it shipped to my local gunshop (FFL dealer.)
This will save me a LOT of money, as all complete firearms include the Federal Excise Tax, which is 10%. It also saves you from spending money on the carry handle which will promptly be removed and stored in your parts bin, never to see the sunlight again ($100.) It's true, manufacturers usually don't send a user's manual, magazine, or cheap plastic case when you just buy an upper, but the manual can be had for free (call them and ask for one), the magazines are only $10, and I've got a bunch of extra cases if you really want one! Mine stay in the safe at home, and I have soft-sided cases for my rifles as they ride better in the trunk that way.
If you're not sure about shipping to an FFL, go to your local gunshop, tell them you are an officer and need help getting an AR lower shipped to them. They'll help you out. They usually charge <$50 for transferring a firearm, but they might give you an even better deal if you are indeed a LEO.
If this is just TOO much for you to handle, you probably have a gunshow coming up in an area nearby. Most likely there will be at least one vendor who has AR-15 lower receivers for sale (at least that's true around D/FW, TX.) The lower receiver is not a big deal, and does not need to match the upper. They usually cost around $250 for a complete lower, depending on which manufacturer you go with (+/- $50.)
I don't add in the cost of shipping, because it's usually not more than sales tax would otherwise be. It's a wash either way, and everything ends up costing a little more than the advertised price.
AND THAT'S IT FOLKS. I'M DONE. IF YOU HAVE FURTHER QUESTIONS OR NEED CLARIFICATION ON ANY POINT I MADE, FEEL FREE TO PM ME OR POST YOUR QUESTION IN THIS THREAD. THANKS FOR READING, AND THANKS TO THE MANY PEOPLE WHO HAVE PUBLICLY AND PRIVATELY THANKED ME FOR THIS EFFORT.
For an exact option package that I would order from CMMG's website, you can follow the "My Pick" link in my sig line.