A Tale of Two Guns:
On April 1, 2010, I visited a small shop in downtown Tomball, Texas. From the outside, Bob's Wild West appears exactly as one might expect a gun shop to look in a small Texas town.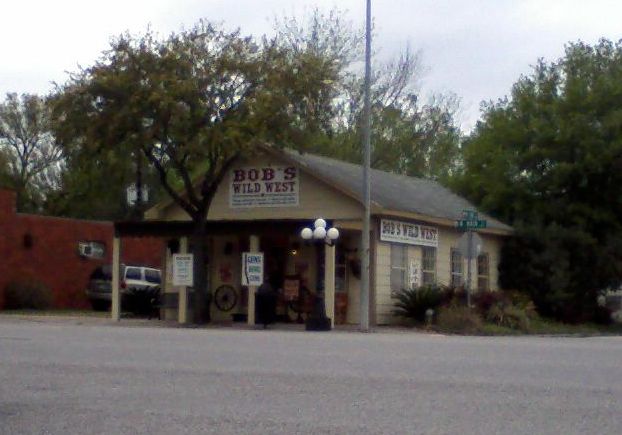 With a sign out front clearly stating the intended focus of this retail establishment, few would be surprised by what lay in store for them inside.
Bob's boasts of having an amazing collection of 1st generation Colts and Winchesters, as well as having handmade and collectible knives and Texas Ranger memorabilia. Nearly one entire wall is covered with a glass display case, full of knives that are either handmade, presentation sets, or collectibles. In a glass display case that forms an island in the center of the store, military memorabilia, historic firearms, and collections of new and used firearms are offered for sale.
However, it wasn't the firearms in the center display cases, nor the handmade knives that I came to see that day.
In the corner of the building, in a special bi-level glass case, Bob keeps his Ranger guns. Each handgun in this case has a story behind it, and most have letters, badges, or pictures to add to their provenance. I had seen them before, and knew of their history, and wanted to see them again. I hoped Bob would let me snap a few pictures to share their story with the rest of you.
Of the many handguns in the case, this is the tale of two Colt 1911s…
In 1975, a Texas Ranger named Joe Coleman was transferred to West Texas, in the Pecos region. Ranger Coleman got to know his local landowners, and became especially well acquainted with a rancher in Loving County, Jimmy Wheat.
Mr. Wheat respected and liked Ranger Coleman, and one day presented him with a '74 Colt Gold Cup National Match. Ranger Coleman was grateful for the gift, and admired the pistol very much, showing it off to fellow Rangers with whom he worked. Ranger Coleman carried the Colt as his duty weapon, grateful for the rancher for giving him such a fine handgun with which to execute his duties as a Texas Ranger.
After about a year's time, Mr. Wheat requested Ranger Coleman to bring him the pistol back, as he needed it. The Ranger was saddened at this request, because it was such a fine pistol, and he hated to part with it.
Reluctantly, the Ranger brought back the gifted pistol to the rancher, who in turn presented him with an exact duplicate of the original pistol, but this one being a bit newer (serial # 70N83---) and fully engraved! The grips were sterling silver, and inlaid with gold!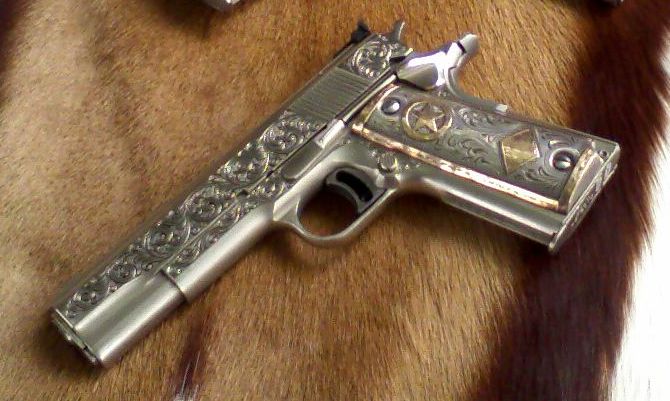 Ranger Coleman wore his engraved Colt Gold Cup proudly, as Rangers are known for being strapped with the very best hardware available, and are not averse to dressing them up with custom embellishments!
Six months later, Mr Wheat called on the Ranger to come meet him once more. At this meeting, Mr. Wheat returned the original Colt. While it was away, the Colt was fully engraved and customized to be the second part of a perfectly matched set!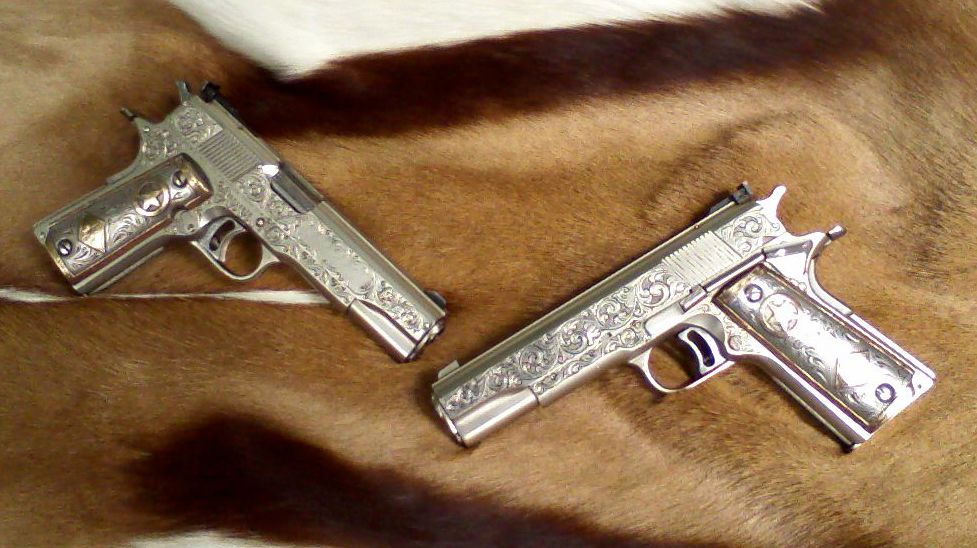 The pistols are exquisite, with deep cut engraving, in a pattern that is truly classic American Scroll. One of the pistols has obviously been worn a bit more than the other. Its engraving has become "antiqued" from the dirt and grime that must have been come by honestly from years of wear. The second, although carried on occasion, must have seen little use, as it is still bright and shiny as it must have been the day it was handed to the Ranger.
In 1991, Joe Coleman (retired Ranger Sergeant), presented the pistols to the Texas Ranger Hall of Fame and Museum, where they were on display for eight years.
These pistols (and other Ranger pistols) are on display at Bob's Wild West. A letter accompanies the pistols, telling of their tale. The letter is written by a Texas Ranger who worked with Ranger Coleman, and personally saw the pistols.
The pistols come with Ranger Coleman's badge, and stag-handled Case folding knife he always had with him.
As for pricing: if you have to ask… ☺
If you live anywhere nearby, you owe it to yourself to drop by and check them out. Tell Bob you read about his Ranger pistols online, and wanted to see them in person.
Bob's Wild West
400 W. Main St.
Tomball, TX 77375
(800) 713-0105