This is in response to FormerNOPD's request for more information on the Trust route to the NFA. Enjoy!
Have you ever looked at pictures online of sound suppressors, machineguns, short-barreled rifles/shotguns, grenade launchers, or other weapons and wondered..."how'd they GET those great toys!?"
Most know that they aren't outright illegal, but the barrier to entry into what is commonly referred to as the "Class 3 World," is prohibitive. But knowledge is power, and so I want to give each of you the power to break into the fun-filled world of the NFA!
First off, let's briefly discuss what you can and can't hope to buy through the NFA process.
Registration categories in the NFA:
1- SBR: Short-Barreled Rifles (barrels <16", overall length <26")
2- SBS: Short-Barreled Shotguns (barrels <18", overall length <28")
3- Machineguns
4- Sound suppressors
5- DD: Destructive Devices (grenade launchers, grenades, etc...)
6- AOW: All Other Weapons (anything not a handgun, rifle or shotgun)
While you can purchase current production SBRs, SBSs, AOWs, DDs, and suppressors, the 1986 GCA banned all further registration of machineguns. This locked the books on machineguns, and only allows the further transfer of machineguns, but not the manufacture. This has had the economic result of pushing the price of machineguns to ridiculous prices, out of reach for the vast majority of folks (M16s go for >$12k.)
So, if this sounds like something that you would be interested in, read on.
Individual Method
You can have an NFA firearm (all categories are considered firearms, even suppressors) by simply filling out the
Form 4
(application to transfer), and send it in with a $200 check, a set of passport photos, and a set of fingerprints. The processing usually takes anywhere from one month, to 6 months, depending.
However, a lot of people do not have access to this route, because one of the steps of filling out the Form 4 is to get your Chief Law Enforcement Officer of your jurisdiction to sign off that he knows of no reason why you should not be approved for the transfer. When I was on the job, MY OWN CHIEF would not sign my paperwork. Humph!
Well, enter the TRUST.
Trust Process
If you have a trust, the trust can be approved to own an NFA firearm. You would simply be the trustee, authorized to possess the items. The trust route is slightly different than the Individual route. For starters, no need for the fingerprints, as a paper entity does not have any. Ditto with the passport photos. When you send in your paperwork, you will need to include a copy (COPY, not original) of the Declaration of Trust. With very little background checking to do (none?), the paperwork is usually approved quicker than individual transfers.
Now, how do you GET a trust? I'm glad you asked...
First off, a trust is an entity, not a corporation. There is no ongoing paperwork that must be filed to maintain a trust. There is no filing fee for a trust. There are no obligations whatsoever once the trust is formed. It exists, and that's enough. It has legal implications over the assets of the trust, as ownership is no longer in YOUR name, but in the trust.
Now that we know a little about what a trust is, here's what you'll need to do if you want to form one. While an attorney can draft up a perfectly suited trust, that may be unnecessary if all you are wanting is a legal method for transferring NFA firearms into your possession. If you wanted something MORE out of a trust, you should consult an attorney.
If you have determined you do not need professional legal advice, you WILL need some help. Socrates and Quicken both make software packages suited to estate planning, and include templates for wills and trusts.
Socrates Estate Planner:
Quicken Willmaker 2009:
With the software in hand, you should go through the various templates and pick the one for you. There are married, single, irrevocable, revocable, and other types included. You will want the single revocable living trust, unless you are either married and want your spouse included in the process. This is not necessary.
First, you will need to pick a name for your trust. This will need to be engraved on any firearm you MANUFACTURE, but not those you have transferred to you. When you "make" a short-barreled rifle by slapping a 10" upper on a lower receiver, you have MANUFACTURED an SBR. So, you MAY not want to use your name. I chose "Wise Firearm Trust."
Where the software leaves a blank, fill it in appropriately.
Let's look at some legal vocabulary:
The Grantor is you.
The Trustee is you.
It looks awkward, but YOU are assigning all ownership rights of the included property to YOU, to take care of them for YOUR interests. It's a bit redundant, I know.
You can also assign joint Trustees, which could be your brothers, wife, dad, or friend. Keep in mind, this joint Trustee will have complete possessory rights of the items, and could exert this legal authority if provoked. Be careful!
You can also name beneficiaries of the assets, in the event of your death. In this way, the Trust acts like a will. But instead of passing the assets from YOU to your beneficiary, it passes from your TRUST to your beneficiary, OR to another named SUCCESSOR TRUSTEE to possess the assets until the beneficiary is old enough. (A lot of wills have trust provisions that do the same thing.)
Here is what the front of my Declaration of Trust looks like: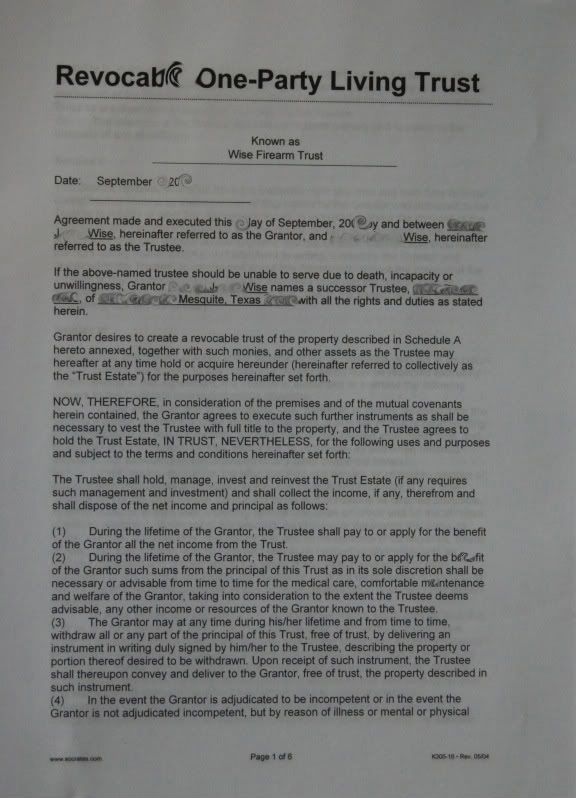 Once you have trust documents filled out properly, you will need to have it signed by a notary, and witnessed. I have blocked out most of the information on this page, but perhaps it might still be useful to see: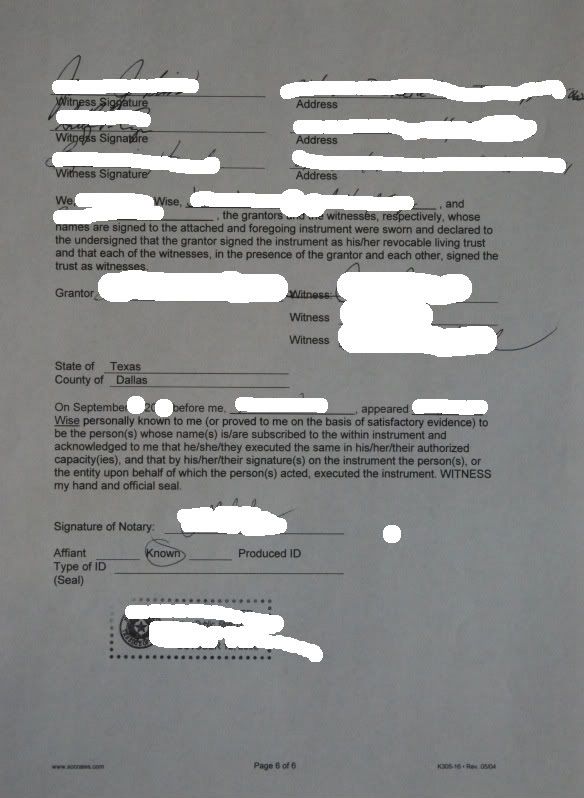 You will also have to fill out a Table of Assets. This will include every NFA firearm you transfer to the trust. It is a simple spreadsheet with the item description. I have three NFA firearms. A SBR and two suppressors. This is my table of assets: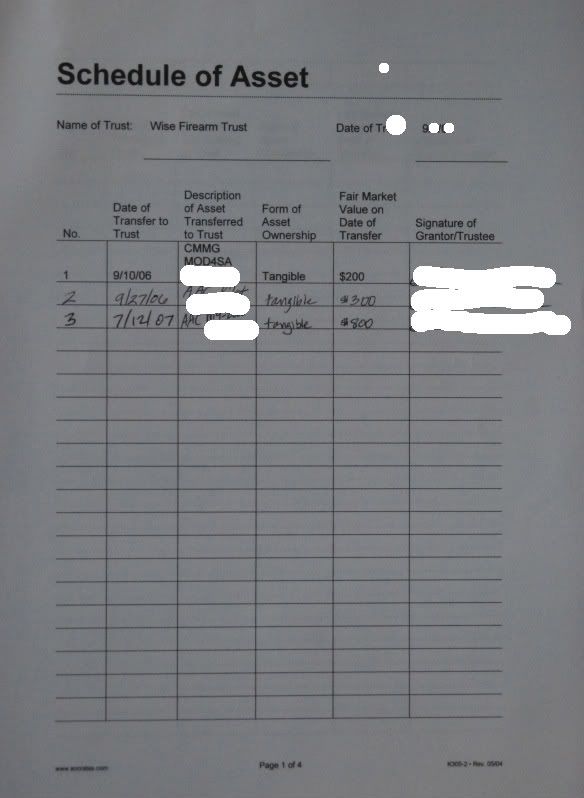 The transferred (titled) assets do not need any further documentation, but you will need to document any transferring of non-titled assets into the trust. This comes up when you want to SBR an AR lower. You will first need to transfer the lower into the trust, via an Assignment of Property. You just fill out a simple form, include the description and serial number, then have someone witness your signature authorizing the assignment of the property.
It looks like this: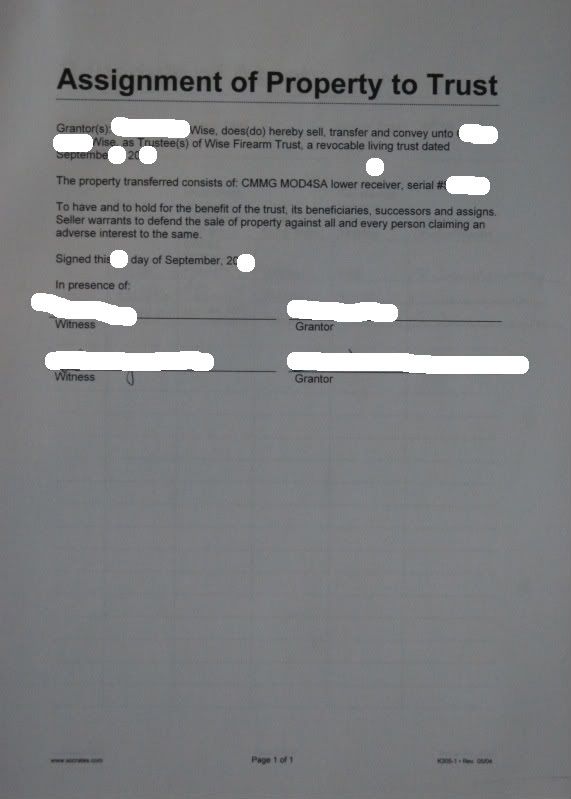 So, now you have a trust. WOOHOO! Make a copy of the Declaration of Trust pages. Then go put the original in your safe.
Now you are ready to start filling out those Form 4's (transfers) and Form 1's (application to manufacture.)
I hope this has inspired at least one of you to take the plunge into the World of NFA!