There's been a bit of a craze lately to buy AK type rifles, and here and on other boards new-comers are asking what to look for when they go to plop down their hard-earned cash. I was perusing another board, where the question "which AK is considered to be the best?" was posted. I wrote the following answer, and figured I'd share it with you guys.
"Which AK is best?"
When someone says something is "the best," it can mean different things. Most think of the best as referring to quality, craftsmanship, and precision. This is also the definition I am using here. When I wrote my guide to the AR-15 (see the link in my Signature below), my pick represented the best value, that was worthy of being taken into harm's way. In the AK market, this definition doesn't do much, as even the cheapest AKs are typically of high enough quality to take into harm's way (a true testament to the design!)
The very high-end of AKs are the ones that not only function very well, but LOOK good. Attention to detail, quality parts, good finish/markings, etc... The truth is, nearly all AKs work. It's just that some do it with a bit more style than others!
The Dichotomy of the AK Market
AKs, unlike ARs, are not traditionally US made. They were made all over the world, mostly by our political enemies, but also by our allies. As such, they are now the subject of several treaties, bans, and Executive Orders.
There are two kinds of AKs you can find on the market, those built by a
manufacturer
, and those built by an
assembler
. Hmmm... Maybe they're not that different from ARs after all?
MANUFACTURERS
Some rifles were once brought into the US in their factory configuration. These were banned in 1989, and are referred to as "Pre-89s." Bush (H.W.) signed this '89 ban. Later, manufacturers, such as Norinco, exported US legal variants, such as the MAK-90. Clinton "fixed" this by banning all firearms from China in an Executive Order. Something about its humanitarian issues, or some non-sense... Other manufacturers were still allowed to export their wares into the US, but due to the '94 assault weapons ban, in addition to the "sporting use" interpretation by the ATF, these rifles had to be neutered of bayonet lugs, flash hiders, magazine wells that could take currently available high-capacity magazines, and pistol grips.
Within the manufacturers category, there is a sub-category induced by law. This is the Pre-89 category. I will subdivide the Manufacturers Category into "Primary Market" and "Secondary Market." Those rifles found on the primary market are those that you can find 'new' today. Those in the secondary are either those that have been banned (Pre-89), or those that are no longer imported for some other reason.
PRIMARY MARKET (new)
Some manufacturers, when faced with daunting regulations, just gave up and stopped exporting AKs. Others got creative...
Arsenal
:
Arsenal is a shop in Las Vegas, Nevada. They are a LICENSED MANUFACTURER of Bulgarian AKs. Arsenal Bulgaria ships parts to Las Vegas, where the local (US) shop uses these parts and US parts to build complete rifles. Since the US shop is a licensed manufacturer of the Bulgarian company, it is difficult to draw the line which rifles are made where, or if you would consider them a manufacturer over just an assembler. I consider anything sold under the Arsenal name to be just as good as though it came straight from the factory.
Saigas
:
While butt-ugly in their original (importable) form, Saigas are made very well and are very high quality rifles. However, they are nearly always altered (converted) to accept standard magazines, and to look more like the original. Depending on who performs this work, the quality could either be very good, or very shoddy. In general, Saiga conversions are very good. Saigas are made in Russia.
Unconverted Saiga rifle:

Converted Saiga rifle, work done by AK-USA:
Bulgarian SSR-85C2:
Global Trades, out of Houston, was importing the
Bulgarian SSR-85C2
. These rifles were slightly altered to include US parts, but they are authentic Bulgarian rifles built in Bulgaria. The pistol grips, muzzle devices, and certain internal parts (trigger, piston, etc...) are US made and added here in the US to keep the rifle 922(r) compliant.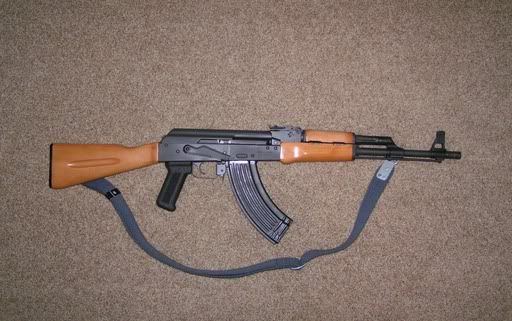 WASR-10:
These are also made overseas, imported into the US, then altered to be US compliant. They originally come into the US with a narrow magazine well that can only take the single-stack 10rd magazines. Century Arms International takes the rifles and opens up the magwell to take standard magazines. They add a US made pistol grip, a Tapco G2 trigger kit, a US made slant brake and piston, in order to remain 922(r) compliant.
SECONDARY MARKET
Other rifles can be found on the secondary market, either used or Like New In Box (LNIB.) These include the VEPR, which is no longer being imported for some reason, and originally manufactured Pre-89 rifles, such as Chinese, Egyptian, Hungarian, etc...
Chinese Norinco AKM-47S: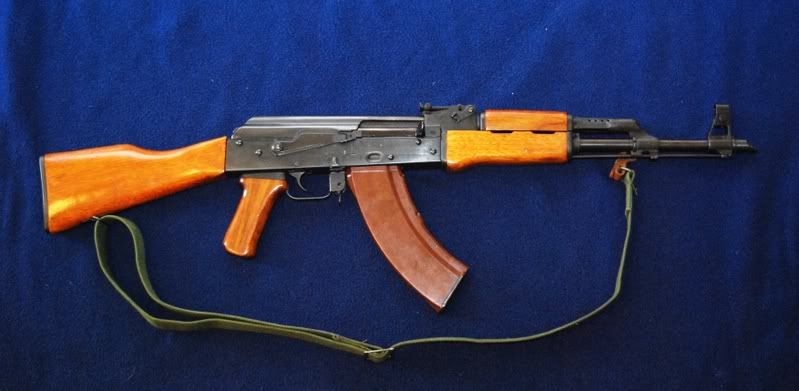 While a lot of people tout the Chinese rifle as the best, it is not. It IS the most "authentic" rifle if you are wanting a clone of the rifle we faced in the Korean and Vietnam wars. The Chinese rifle is different, and some value this difference, but compared to the VEPR, they don't even compare.
Hungarian SA-85:
Some say the Hungarian SA-85 is one of the best. I don't know, as I have never handled one. Pictured above is the underfolder model.
THE ANSWER to "Which is Best?"
So which rifle will take the crown? Which of the factory rifles has the best overall quality? Which one has the best finish, the best markings, and the highest quality parts? The
VEPR
. (Russian)
Just look at this thing:
It's beautiful...
Here's a stock photo showing the detail up close:
The VEPR, unlike all the other rifles in this category, are built on RPK receivers. RPK's are the squad automatic machineguns, and therefore the receivers are beefed up to take the abuse of sustained full-auto fire. You can see a bulge in the front trunion area, which is the area just aft of the handguards, under the rear sight. (It's where it says "made in Russia.")
VEPRs were imported by Robinson Arms into the US in what had to be a compliant form. I do not know, and have never heard, what this compliant form exactly was, or what Robinson Arms did to the rifles. All I know is that the finished product was superb.
VEPRs have not been imported for some time, and I don't exactly know why. It probably has something to do with the business relationship between the factory in Russia and Robinson, but I don't know for sure.
I would rank original manufacture rifles in this order:

1. Russian (VEPR, tied with a good Saiga conversion)
2. US/Bulgarian (Arsenal)
3. Chinese (Norinco and Polytech)
4. Bulgarian (SSR-85C2)
5. Egyptian (Maadi)
6. Romanian SAR
7. Romanian WASR-10

Rumor has it the Hungarian SA85 is a fantastic rifle, but I've never handled one, much less shot one. If rumors are true, it would be ranked between the US and Chinese, but I really don't know firsthand.