To answer a question presented in the "Big Thread," as to the availability of the H&K 416 on the civilian market:
From ToddG, Moderator on M4Carbine.net:
"Spoke to a very reliable source today who informed me that the plan to bring a civilian-legal US-manufactured H&K 416 to market has been "accelerated." In fact, there will be samples available at the SHOT Show in Orlando (Jan'09).

The sample guns will actually be manufactured in Germany, but will be built to the US specification.

More as I learn it."
For those of you who don't know what an H&K 416 even IS, here's the fact sheet:
It's basically a piston-driven M4. Is it radically different than anything else on the market? No. Is it an H&K? Yes. And that's why so many people want one...
Here's my prediction. H&K, like it did with the G36/SL8, will release a neutered, castrated, "Saiga-like" rifle for the "civilian" population, based on the H&K 416 rifle. It will probably look like the California-legal AR-15.
H&K COULD just send over complete uppers. This would allow us to attach US made complete lowers (which have more than enough US parts) and that would make us all happy, as well as cure some headaches on their part by not messing with importation of firearms.
Of course, that would be too simple... So, instead, they are probably going to re-engineer the upper and lower so that they will ONLY mate to each other, and not to Mil-Spec lowers. This will force owners to use only the castrated lowers that they provide, and create a whole new aftermarket for conversions.
Here's the H&K G36 rifle:
Here's the "civilian" version of the G36, the SL8:
And here's what your SL8 can look like after spending $1500 on the conversion. (This one was mine.)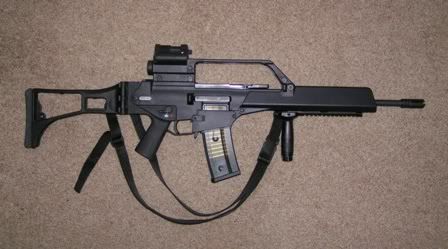 If H&K really supported the civilian sector, they would ship us 416 complete uppers, as they are completely legal in the US. Let's see what route they take, if any...