On Friday, August 8th, 2008, I turned in my badge and gun, and left the life of fighting crime and suppressing evil. Well, maybe I just left the PROFESSION of fighting crime and suppressing evil…
I have been reading the
Book of Five Rings
where Miyamoto Musashi writes about the warrior's life. Musashi was a samurai, but like many samurai (or,
bushi,
as he would prefer) he became unemployed when the Shoguns changed the social structure in the Tokugawa era. As an unemployed samurai, or
ronin
, Musashi had to forge ahead in a new career, while staying true to his warrior spirit.
I feel like I know how Musashi felt when he penned those words in 1643, as I now press forward in a new career, with an inability to let go of my warrior spirit.
I have moved from the Dallas area to north Houston, and will begin classes later this month at the University of Houston's Law Center. I have been given an opportunity that few receive, and could not pass up the opportunity to earn a JD, gratis. I hope to practice law as a prosecuting attorney back in North Texas upon graduation, and will continue my oath to uphold the constitution and see that justice is served.
While I will miss my front row seat in the drama of life, I'm told the press boxes aren't such a bad place to watch the show.
J. Wise
PS- Just to keep this "on-topic," I had to turn in my issued Glock 17 which was laser engraved with the Mesquite PD badge. It wasn't my duty weapon (personally owned Glock 21), so it wasn't too traumatic! However, I quickly picked up a commercial model, as I have gear and mags for the pistol and still wanted one! The local shop gave me a deal (cost), and I got it for $404.
My old issue weapon: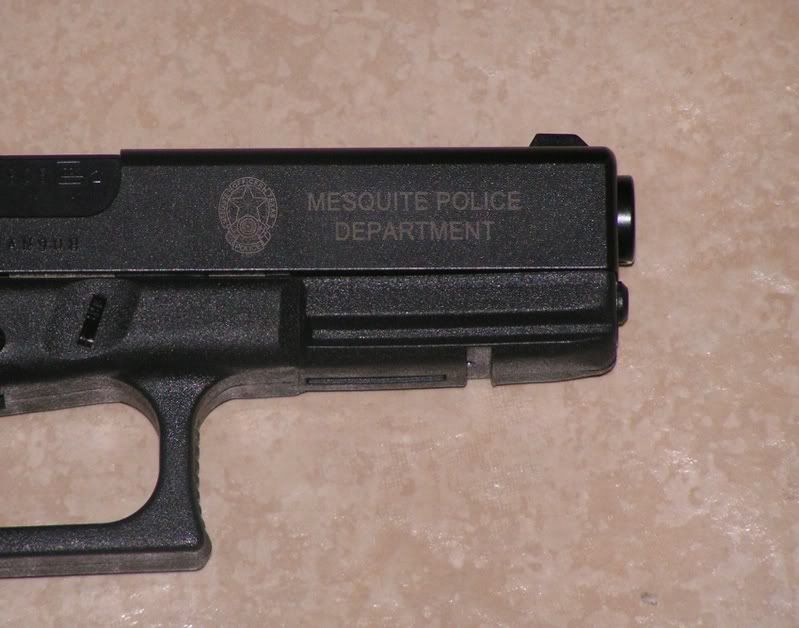 My old badge: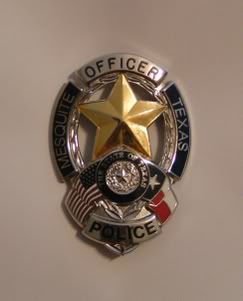 I finished six years with the department, all uniformed patrol. There wasn't anything else that interested me.