LED's and Luxeons are great lights. I have a bathtub full of them and I keep getting more, like yesterday when I ordered a Nuwai Q III. I have some of the best Luxeon III ever made by the best modders in CPF, lights with Surefire E2e bodies and PR T heads with Down Boys 917 and TYOJ bins.
My first Luxeon was a Surefire Digital Lumamax L-4, a 5 watts Luxeons with a fantastic wall of light for such a small light (just a tad bigger than the E2e)
But as much as I like them, they can not supplant the incandescent from a good flashlight company like Surefire or Streamlight.
They don't throw as far as the incandescents do (an E2e will throw farther) and by the lack of the red spectrum they lack
definition
.
I have a raccoon feeder at 25 yards from my window. I do all kinds of experiments shinning incandescents and Luxeons at the animals out of that window. At that distance, even when the Luxeon III lights show that the animals are there, the lack of definition in comparison with the G-2, 6P, or C3 etc is outstanding.
LED's tend to blend the animals with the background and the viewing is poor, even using my PR T's heads.
E2o modified by black bear for 120 lumens, three Surefires with PR T's and Luxeons III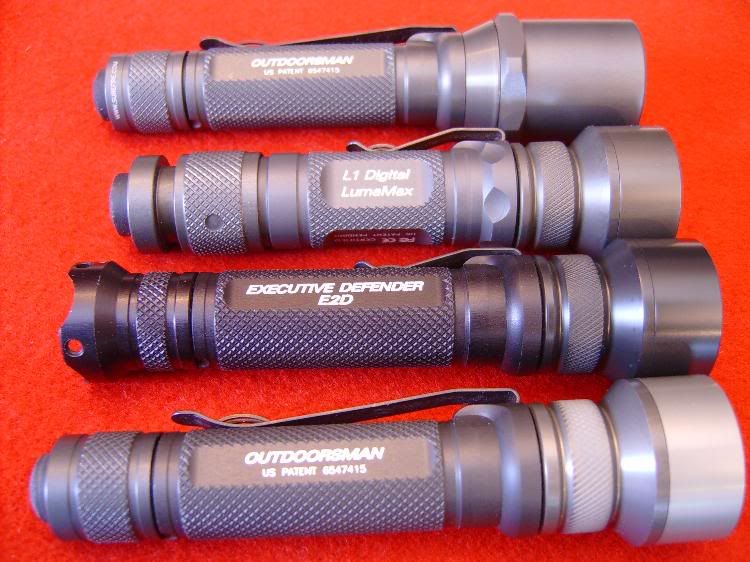 If you take Luxeon V or III in any kind of weather you will quickly learn how poor performers they are in conditions of Rain, Fog, Snow and Smoke. Smoke is the reason why firefighters will not use them due to the poor penetration.
Smoke, Fog, Rain, and Snow are the reasons why the US Army will not use them as weapon lights or even as handhelds.
Surefire M-4 using the turbo head will easily reach up to 100 yards ditto and more for the Surefire M-6 Guardian with the 500 lumens lamp, and my own MAG 951 with the 951 lumens will easily reach 200 yards. No Luxeon light in existence today will get that far or put any serious amount of lumens at any long distance.
I have a piece of my fence 78 yards away (by laser rangefinder). I have put one of my black bear mounts with their deep black "light-drinking" fur, and only certain incandescents can show that the bear is there, none of the Luxeon III