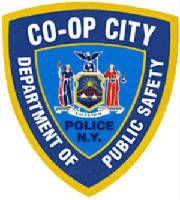 The Co-op City Department of Public Safety will be offering an Entrance Examination for the position of Public Safety Officer.
-Exam Date: Saturday, March 8, 2008 - 10:00 AM
-Applicants must meet the following requirements
at time of application and appointment.
-Applicants must:
·Not Be Convicted of any Crime(s).
·Be 21 Years of Age(at time of application).
·Be a High School Graduate(Diploma, GED or Equivalency Diploma required).
·Possess a valid NY State Drivers License(no restrictions or serious traffic violations within the past 5 years.)
·Be a Citizen of the United States.
·Reside in New York City(within the 5 boroughs).
·Be In good physical condition.
·Qualify for high level security and character clearance.
-Applicants will be required to pass:
·Written Examination.
·Psychological Examination.
·Complete Medical Examination including Drug Screening.
·Physical Agility Test.
-Benefits
·Starting Salary approximately $35,000
·Paid Pension
·Liberal Benefits Package.
-Upon Appointment Candidates Must Successfully Pass:
·Department training program and NYC Police Department
·Special Patrolman background and firearms investigation.
-To Apply, Applicants Must Apply In Person At:
·Co-op City Department of Public Safety, 2049 Bartow Avenue., Bronx, NY 10475
-Filing Dates:
·Weekdays - (from 2 P.M. to 8 P.M.) - February 19th through February 29th(Monday through Friday)
·Saturdays – (from 9 A.M. to 1 P.M.) – February 16th, February 23rd & March 1st
*A non-refundable test processing fee of $35.00 will be required upon filing of application.*(U.S. Postal Money Order - Payable to: Riverbay Corporation)
*Processing Fee will be waived for Riverbay Employees & Co-op City residents with proof of residency.*
*Previous applicants for this position will be required to re-file.*
**Equal Opportunity Employer M/F/D/V**
Good Luck to anyone applying.